4×4 Car Hire Rwanda with Driver Guide with Rwanda Car Rental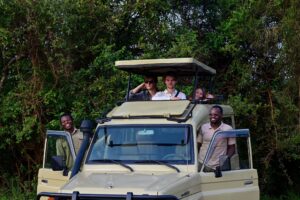 If you're looking for a 4×4 car hire in Rwanda with a driver guide, you're likely planning to explore the beautiful landscapes and wildlife of this East African country. Rwanda is known for its stunning national parks, including Volcanoes National Park, Nyungwe Forest National Park, and Akagera National Park, which offer opportunities for gorilla trekking in Rwanda, chimpanzee tracking, and safari experiences. Hiring a 4×4 car with a knowledgeable driver guide is a great way to make the most of your trip.

Here are the steps to arrange such a service:
– Determine your travel dates and the places you want to visit in Rwanda.
– Decide on the number of days you'll need the car and the driver guide's services.
– Make a list of the attractions you want to see, such as national parks, cultural sites, and cities.
Find a Reliable Car Rental Company:
– Look for reputable car rental companies in Rwanda that offer 4×4 vehicles with driver guides. Contact us today and travel Rwanda with us.
Contact Rental Companies:
– Reach out to the car rental companies to inquire about availability, rates, and services.
– Ask about the qualifications and experience of the driver guides.
– Inquire if the rental includes insurance coverage, fuel, and any other additional services.
Check Reviews and References:
– Read online reviews or ask the rental company for references from past customers to ensure they have a good reputation and provide quality services.
Discuss Itinerary and Preferences:
– Communicate your travel itinerary, places of interest, and any specific preferences you have with the car rental company and the driver guide in Rwanda.
– Once you are satisfied with the terms and services offered, confirm the booking with the rental company.
– Ensure you receive a written agreement that outlines all the details of the rental, including costs, dates, and services.
Prepare Necessary Documents:
– Ensure you have all the required documents such as your passport, driver's license, and any necessary gorilla permits for activities like gorilla trekking in Volcanoes National Park.
– On the designated day, meet your driver guide and inspect the vehicle to ensure it's in good condition.
– With your driver guide at the wheel, you can relax and enjoy the sights and experiences Rwanda has to offer.
– Don't forget to ask your guide for recommendations and insights into local culture and wildlife.
– Return the 4×4 vehicle to the rental company at the agreed-upon location and time.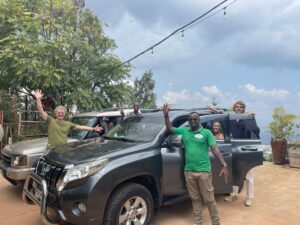 Remember that Rwanda's road conditions can vary, so having a 4×4 vehicle is often necessary, especially when traveling to remote areas or national parks. Having a knowledgeable driver guide can enhance your experience by providing insights into the country's culture, history, and wildlife.
Always prioritize safety and follow local regulations while traveling in Rwanda.