Road Trips Rwanda; Drive around and learn more about Rwanda
Take breathtaking road trips in Rwanda with Rwanda Car Rental. For your ultimate customized safari you definitely need a guide to move you to those different destinations that you need to go after customizing your safari.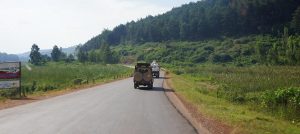 Whether you would like a Rwanda Car Rental to set your own trail and camp under the stars in one of our 4WDs with camping gear, or follow one of our carefully planned circuits with overnight stays in pre-booked accommodation in Rwanda, Rwanda Car Rental provides you with reliable cars for rental in Rwanda and Uganda, a big dose of insider travel tips, and the peace of mind to set off on the adventure of a lifetime.
We offer Wildlife safaris, Gorilla Safaris, Bird Watching Safaris, Mountain Hiking, Chimpanzee trekking, Cultural Tours, Guided Nature walks, A, Local Flight reservation, Hotel reservation plus Customized Tours in Rwanda. Rent a car in Rwanda and drive to Congo to the nearby areas on the borders of Rwanda like Bukavu, Goma and Kivu. These are some of the interesting places to go to and still you can access the Virunga national park of Congo from Rwanda and its worth a trek.
Road trip Drives is the best way to experience The Country of a thousand Hills, abundant Rwanda wildlife including the endangered Mountain Gorilla in Volcanoes and the beautiful Kinyarwanda culture. Our Rwanda Car rental fleet consisting of Toyota Landcruisers and Toyota RAV4s are the perfect Rwanda Self Drive cars to take you around the country. Rent a car in Rwanda today and Drive Your Own Adventure!
Road Trips in Rwanda – Kigali Car Rentals, Self Drive Rwanda
Road tripping is hot in Rwanda the land of thousand hills, 4X4 Car Rental Rwanda serves as the best car rental agency that will offer you great fleets at the best rate to make your road trip journey in Rwanda the best ever in your life.
Self drive Safari planning for independent travelers in Rwanda can be simplified by the team of experts at the company offices in Rwanda to ease the accommodation booking and park entrance, gorilla permits in Rwanda and Uganda, chimps permit.