Safari Car Hire in Rwanda, your Gateway to Wildlife Adventures
When it comes to embarking on thrilling wildlife safaris in Rwanda, Safari Car Hire Rwanda is your trusted partner. Our safari car rental service is meticulously tailored to enhance your wildlife exploration, offering the perfect vehicles for your unforgettable journey.
Why Choose Safari Car Hire Rwanda with us?
Specialized Safari Vehicles: We provide a selection of well-equipped 4×4 safari vehicles, specially designed to handle rugged terrains and maximize your wildlife viewing experience.
Experienced Safari Drivers: Our knowledgeable and experienced safari drivers are your local guides, offering valuable insights into Rwanda's wildlife, ensuring you don't miss any of the breathtaking moments.
Customized Safari Packages: We offer flexible safari packages to accommodate your specific interests and schedules, whether it's gorilla trekking in Volcanoes National Park or tracking chimpanzees in Nyungwe Forest.
Seamless Logistics: We take care of all the logistics, including permits and park entry fees, so you can focus on enjoying your safari adventure.
Safety and Comfort: Your safety and comfort are our top priorities. Our safari vehicles are well-maintained, and safety measures are strictly adhered to.
Embark on a Safari of a Lifetime
With Safari Car Hire Rwanda, you're not just renting a car; you're gaining access to an unforgettable wildlife adventure. Explore the wonders of Rwanda's national parks, observe magnificent wildlife, and create cherished memories in one of Africa's most biodiverse countries.
Ready to embark on your safari journey? Contact us for Safari Car Hire Rwanda to book your safari-ready vehicle and set off on an extraordinary wildlife adventure.
Safari Car Hire in Rwanda for the Road-based safari cars including Toyota Landcruisers with a pop-top roof as safari car hire option. Open-sided 4×4 vehicles offer greater visibility and provide unobstructed photography opportunities in all directions.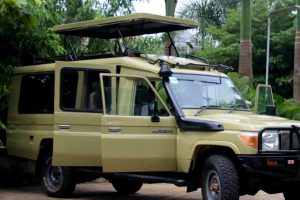 For great visibility and awesome photography opportunities, a safari vehicles allow you to feel closer to the fauna and flora as well. While in
Akagera National Park
or game reserves, these
4×4 safari cars
also tend to have pop-up roofs to provide shade from the sun or can keep you dry during a light shower. contact us for safari car hire in Rwanda today!.
In addition,
game drive vehicles in Rwanda
tend to have all required tools for maintenance and the drive guide are well knowledgeable about the parks and their habitat.
Safari Cars Fleet in Rwanda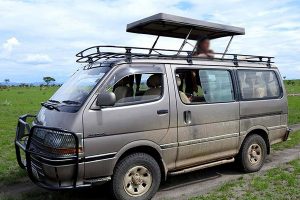 The fleet for safari cars includes Toyota Landcruisers with open roof, roof tent cars and 4×4 Van Safari vehicles; these are highly recommended for travelers visiting National Parks in Rwanda.
However, 4×4 Toyota landcruisers and Rav4s are allowed and we have the convenient ones in good condition.